The Best LED Tail Lights for Your Harley
You definitely need to consider getting rid of your halogen brake light stock on your Harley Davidson Motorcycle, consider replacing it with a very bright LED tail light could save your life because "be seen" is fundamental to motorcycle riding safety.
Why You Need Upgrade your Tail lights to LEDs
There's no doubt that those stock halogen bulbs are very dull and they just don't grab the attention of drivers behind you. In contrast, LEDs these really pop both in daylight and at night, are an eye-catching addition to any bike. They create a clean visual appearance that accentuates the natural lines and curves of any bike. Gives you a better chance that guy following you will see you.
Practical LED Lighting
LED lights are great. You already know why – and that's why you probably have many in your house or apartment already. 
They're bright, they last for years, some LED bulbs can continue to illuminate the night sky for as long as 60,000 hours, that's up to 2,500 days of continuous riding for you to enjoy;  and they don't draw much power, means they can create more illumination per watt than incandescent bulbs. And, they are available for your motorcycle, too. From headlights, to turn signals, tail lights, fog lights, running lights, and much more.
Newest LED tail lights for Harley Motorcycle of 2022
Today I'll introduce you the Newest LOYO 3D Suspension LED tail lights.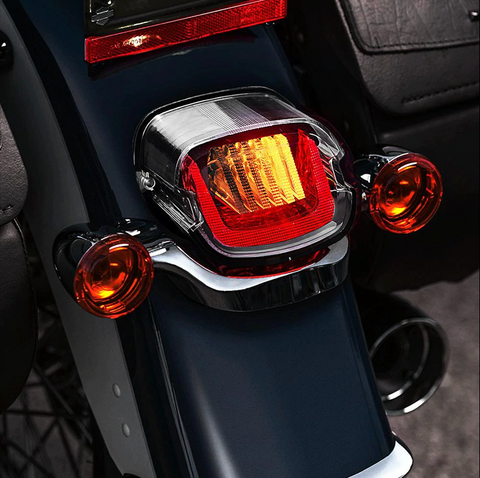 This tail light Integrated Running Light, sequential turn signal lighting, brake light and an extra license plate light. With add-on tail lights, drivers behind you will notice right away that you're about to stop. This can then reduce your risk of getting into a rear-end accident.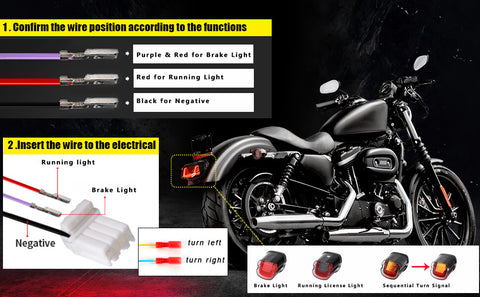 Besides this, here are some of the major features of  the 3D suspension tail lights you should to know:
Premium LOYO Patented Lights Quality-The perfect upgrade for you Harley Davidson. Be seen from 3X farther away. Extremely bright running, brake and turn signal light. High quality Japanese Mitsubishi optical lens with PMMA material, light transmittance up to 95%, almost non-destructive.
Features 52 high-performance OSRAM LED chips, high-output CREE LEDs-Offer long-lasting, brighter, and more attention-getting running, brake, and turn signal lights, easily warning surrounding traffic participant of your motorcycle motion trend.
Flashing Strobe Harley LED Brake Light. This Harley LED tail light has a built-in flashing LED brake light to take your safety to next level.
IP67 Waterproof Rate-Shock-proof,Dust-proof,protect the light from rain, snow, sand dirt or dust, making a longer lifespan.
This tail light is a direct replacement for your stock halogen tail light on your Harley Davidson motorcycles, it will fit most models 1999 to present.( Check the product page for detailed compatible models).
They're simple to install but are a significant addition to your riding safety, just Plug N Play-Designed to directly replace the stock rear tail lamp on many HD motorcycles. The Harley LED tail light is ready to install right out of the box. EMC and adjustable connector equipped, no need extra anti-flicker decoders,no flicker issue and modifications anymore!
Stylish LED Tail Light
If you want to light up your ride, this 3D suspension LED tail lighting might be the best choice around. It will help you stand out from the pack and they'll give your bike a customized look that will drive others with jealousy.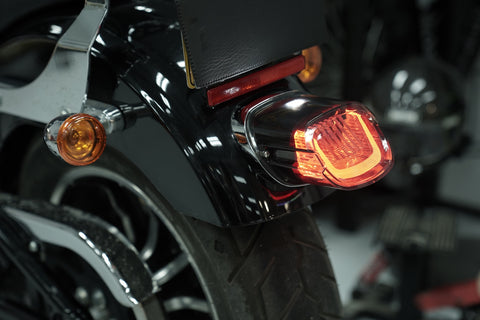 Now it's early spring. Here's an idea regardless of where you live – get ready to ride and to BE SEEN this time. LED tail lights respond faster than incandescent bulbs which means other motorists will see your intentions to turn and brake two to three milliseconds sooner. Those milliseconds can make the difference between a safe maneuver and a preventable accident.
Whatever your situation, if your motorcycle is not already equipped with LEDs, take some time and upgrade. They can save your life because you'll be seen, at night, during the day, in bad weather like rain or fog.
Besides, high-quality bike accessories are as aesthetic as they are functional. They're also long-lasting without being over expensive. That's all the more reason to trick out your ride with them.
All the LED lamps offered by loyo-led.com are DOT approved, 100% street legal.
If you have any questions about fitment or further Information, leave a comment below or email us.
 Also you can check out
all the LED lighting
that LOYO has in stock for you.