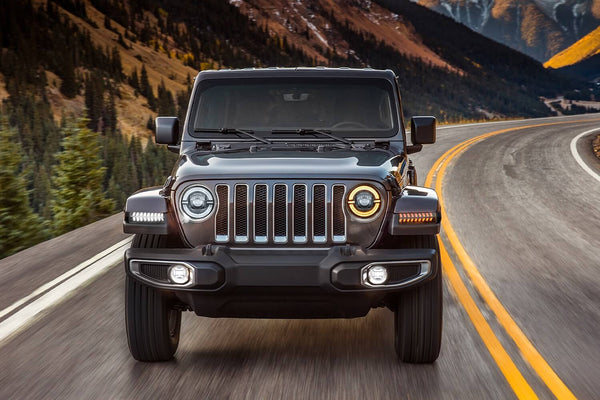 What do you need to know about the jeep wrangler before buying one? and how do you decide which version to go with, that's what we're going to find out. 
If you've thought about buying a jeep wrangler, well, you're not alone. It's an incredibly popular vehicle that's been around for a very long time with a time-tested design and a legendary reputation.
Deciding which wrangler to buy however is not as straightforward as choosing from a lot of other types of vehicles. And there's so many different variants and configurations to go with.
So, how do you decide which one is the right choice for you? and what do you need to know before buying a wrangler? 
Well, make sure to stick around to the end of this article, because that's what we're going to find out. We compare the 2021 Jeep Wrangler model lineup for design, features, safety, reliability, and value for money to find out which one is best. If you are thinking about buying a 2021 Jeep Wrangler, you don't want miss this review article.
1. Figure out what you are expecting about a Wrangler JL
So first off, before we get into all the details of the different types of wrangler models that are available, one of the most important things to understand about the wrangler is that this is not a direct replacement for a daily driver crossover or SUV.
Every single version of the wrangler is an incredibly capable off-road vehicle, and they're designed for off-road capability before on-road comfort. So if you're buying a wrangler as a replacement for something like say a Honda CRV or a Toyota RAV4, and you're expecting the same level of daily comfort and refinement, then you're probably going to be pretty disappointed .
When it comes to everyday comfort and usability you have to be willing to compromise with the wrangler, because this is a dedicated off-road vehicle that's designed to do things that a regular SUV just can't do.
Now having said that there is a lot of variety in the wrangler lineup, and there is a little bit of something for everybody, depending on whether you're looking for more of an everyday on-road vehicle or if you're looking for a dedicated off-roader, the wrangler lineup does have so many different variants to choose from including various special editions that do come and go.
 2. 3 Basic Versions for Chosen
But if you get right down to its essence, there are three basic versions to choose from and these include the sport, the Sahara, and the Rubicon, the differences between them basically come down to features and price
The Sport is the cheapest basic entry level model in the lineup.
If you go for the Sahara, you get a lot more features and gadgets to play with.
And the Rubicon is the more dedicated off-road version, with a lot more off-road equipment.
You can also choose between the classic two-door body style or the more popular four-door unlimited version which is an upgrade, that's available on most of the models.
The two versions that I've spent the most time testing and the ones that are the most popular with buyers are the Sahara and Rubicon. And there are some very clear differences between the two, depending on what you're looking for.
 3. What should you be concerned about when choosing a JL
If you want the most capable dedicated off-roader, then you're probably going to want to go with the Rubicon model, which comes with a lot more off-road equipment and hardware. Some of the unique off-road features that comes included on the Rubicon models includes 33-inch all-terrain tires, a rock track four-wheel drive system with off-road optimized gear ratios, electronic locking front and rear differentials, and an electronic sway bar disconnect system which gives you way better wheel articulation for better off-road capability.
Now you don't necessarily need to have any of that stuff in order to get the full wrangler experience, and every single version of the wrangler is extremely capable off-road. Some of the great off-road benefits that you get with every single wrangler model including the base versions, includes the command track four-wheel drive system which gives you a true low range transfer case. You get excellent ground clearance a really strong steel frame and because they're such well-designed maneuverable vehicles off-road, you also get great approach departure and breakover angles and even water forwarding capability.
If you go with one of the Sahara versions of the wrangler which are the most on-road friendly versions of the wrangler. You do get the option of a select track four-wheel drive system, which has the ability to automatically switch to two-wheel drive mode for better fuel efficiency, kind of like you get with a lot of crossovers and SUVs on the market.
In addition to being amazing off-road, another great feature that you get with every single wrangler is the ability to remove the doors, the roof, and fold the windshield which gives you a driving experience that just can't be compared to any other vehicle.
The experience of driving a stripped-down wrangler is like nothing else, and it's just so enjoyable, that i can see how that alone could sell a lot of people on the idea of wrangler ownership
Jeep gives you plenty of ways to enjoy that open-air experience with a choice of three different top styles to choose from. I'm actually a huge fan of the standard sun-rider top which is a soft top that's surprisingly easy to fold down, thanks in part to its zipperless design.
If you prefer something with more security, you could go with the option of the three-piece freedom hardtop. My only real complaint with the freedom hardtop is that it makes going topless a lot more difficult on the wrangler, because it's so heavy and difficult to remove. If you really want to get the hardtop the best thing to do is to look into some aftermarket tools that will make removing and storing the hardtop a lot easier.
But if you don't want to bother with any of that and if you're looking for the best of both a soft top and the hard top, then you could go with the third roof option, which is the Sky One-Touch Power Top, which is the best of both world solution. Although it's a pretty expensive option, the sky one touch power roof does give you the ability to fold the entire roof down at the touch of a button which is extremely easy and convenient.
Now when it comes to Drivetrain choices, this is another area where jeep gives you tons of different versions to choose from.
The standard engine is a naturally aspirated 3.6 liter pentastar v6, that produces 285 horsepower and 260 pound-feet of torque. It comes matched to a standard 6-speed manual transmission, but you can also get an eight-speed automatic transmission as well. The 3.6 liter V6 engine is definitely the most popular engine choice, and it's probably the best one as well, because it gives you adequate performance, and the best reliability thanks to its simple well-proven design. In addition to the standard v6 engine which does come in both a standard version or an e-torque version, which gives you a mild hybrid assist for a bit of extra power and efficiency. You also have a choice of four different optional drivetrains.
The optional engines include a 3-liter turbo eco-diesel, a 2-liter turbo 4-cylinder engine or a 2-liter turbo with a plug-in hybrid drivetrain, and finally a 392 v8 engine which is the most expensive, most powerful top-of-the-line model.
Now i know that's a lot of different engines to choose from. I'm going to make things simple with this one small piece of advice.
Just stick with the regular naturally aspirated v6 engine, and all should be perfectly fine.
My issues with all of the optional engines including the 2-liter turbo, the plug-in hybrid and the eco-diesel, although they all look really good on paper. I just don't feel that they add a lot of value in the real world, especially for the price premium that they ask for.
One of the things that the wrangler has traditionally been known for is its simplicity and ease of service. And i just don't think that's something that you get by going with one of the optional engines, which add a lot of complexity to the wrangler, making them more difficult to service and could also reduce the long-term reliability.
Given the fact that the wrangler isn't exactly known for its stellar build quality or long-term reliability to begin with, I think your best bet to increase your chance at a positive ownership experience is to just stick with the simple naturally aspirated V6 engine, which is the only drivetrain in the wrangler that has a well proven track record.
The V6 engine might not be anywhere near as fuel efficient as the plug-in hybrid 4xe model, and It's obviously nowhere near as powerful as the 392 V8 model, but honestly i would trade all of that for its much cheaper price tag and its simplicity any day.
Regardless of which version you go with jeep gives you a ton of different ways to customize and option out your wrangler, depending on the features and technology that you want.
One of the biggest improvements that Jeep made to the latest generation JL wrangler was with the interior where you get a huge upgrade in terms of the comfort, features, and technology.
Interior and Features Improvement
It is a really well designed interior overall, and you can get all kinds of great useful features, including options like a heated steering wheel and heated seats, a really easy to use well-designed touchscreen, infotainment system that comes with apple carplay and android auto.
You can also get all kinds of great safety features, including automatic emergency braking blind spot monitoring with rear cross, traffic alerts, and even parking sensors.
Now obviously if you go for the two-door model you don't get a ton of space, but it can still seat four people in relative comfort. And if you go for the unlimited model, you do get a proper amount of space where adults can sit comfortably in the back, and a good sized cargo area too.
Now you do have to be careful with what options you decide to go with because if you're not careful the price tag of the wrangler can increase in a hurry and they can get surprisingly expensive.
The price can range anywhere from around 35,000 to upwards of 65,000 dollars depending on which version you go with. But you can even push the price tag into the 80, 000 range for the 392 V8 rubicon model, which is an astonishing amount of money to spend on a wrangler.
Conclusion
As expensive as they are, one of the benefits you do get with the wrangler is amazing resale value. It consistently makes near the top of every list year after year when it comes to best retained resale value, which is a testament to how popular they are on the market with buyers.
If you're looking for a highly capable off-road vehicle similar to the wrangler, surprisingly there aren't a lot of suitable alternatives.
If you want something that's safer more practical and more family friendly, you could consider the Toyota 4runner, which is also a very capable off-road SUV, that also comes with a much better reputation for long-term reliability.
The most obvious alternative to the wrangler, however, is of course the ford Bronco which has a lot of cool things going for it. But it's also relatively new to the market, and doesn't have much of a track record yet.
The bottom line is that if you're considering a wrangler, chances are not much else will do because it's still a fairly unique vehicle on the market. You don't have to go with a top end Rubicon model, however, to get the full wrangler experience. If you're just looking for a usable daily driver, a regular Sahara model will do the trick perfectly fine. And if you want something that's more modestly priced, you can just go with the base sport version with just a few keep options, to keep that price tag in check.
If you already have a wrangler and going to upgrade your lighting system and increase the invisibility when driving your Jeep, you can check out the quick links over here.
Let me know what you think of the jeep wrangler, if you have any suggestion or ides, just leave a comment below.