What is Fog Lights?
Fog light, or fog lamp, is a type of automotive light be used at low speed in heavy fog, rain and other conditions which reduce your visibility on the road and make driving difficult.
They are usually small, block- or round-shaped lights located beneath the headlights assembly on the front of your car, are intended to help it be seen in conditions, extremely important for safe driving.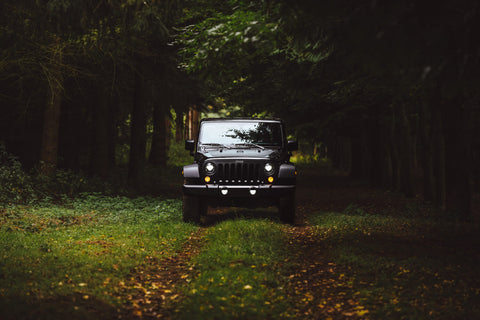 When not to use your fog lights?
I'll tell you the time not to use your fog lights.
And that's when it's nice whether you have, no snow no rain and no fog, there's no reason to use your fog lights. They're not going to help you to see long distance, fog lights are strictly closed wide, that's it. 
When to use fog lights?
When have heavy fog, that you can barely see past your bumper, use your fog lights.
In rain, heavy torrential rains. You don't need your fog lights when it's a light rain, just use your fog lights when it's really heavy.
And heavy snow, a light snowfall you don't need your fog lights.
But when you have whiteout conditions, a little less than whiteout conditions, use your fog lights.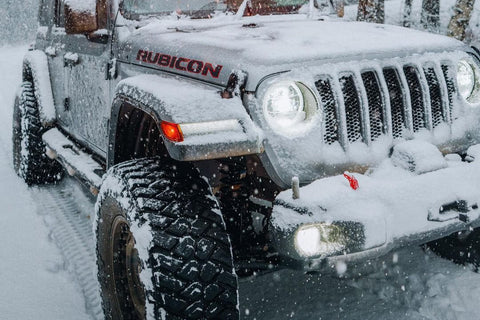 The next thing up is what color is good for fog lights?
A 6000k
B 2500k
C 4000 K 
D 8,000 K
I'm going to give you a rundown of the colors really quick.
The 8,000 K is something you would it be color, like a purplish blue. 
The 6000 K, a lot of us already are common with, is the bluish white light.
4000 K that runs about a halogen light. 4000 or 4500, Some words in that areas of halogen light. 
It depends because they have different scales, some are really bright, some aren't. so I would say that's average color for a halogen.
The 2500 K is the color you want for your fog lights, and that's a yellow light.
you can go a little higher a little lower, 2500 will give you a nice yellow light.
But, why yellow?
The penetrating power of yellow light is very strong, which can not only ensure better penetration, but also ensure a clear vision.
while yellow will reflect, and it doesn't reflect less light into your face.
It's just that the light is being reflected into your face, is not as aggressive on your eyes.
So those little black spots on your eyes don't have to close down even more. Because the light is so bright that's being reflected back. Although fog lights will re-minimise the light reflection because of their cut off. you're never going to get a little bit that's going to come back into your face.
So yellow is the best way to go.

LED Fog lights for Jeep, Harley Davidson, BMW and other motors
LOYO has designed and manufactured some of the best LED fog lights for Jeep, Harley Davidson and other motor in the industry.
When paired with applicable LED headlights, the coverage will be truly something to behold whether you are on or off the road. That won't be wrong.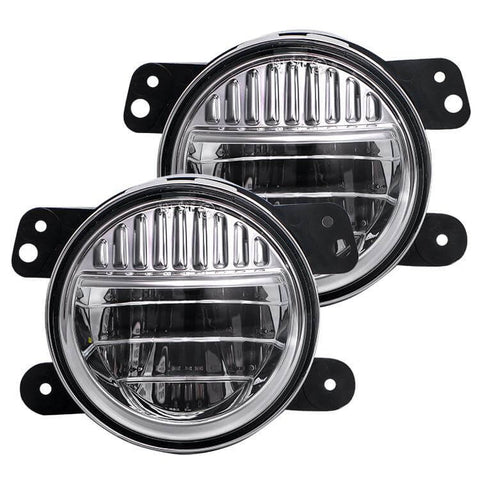 1. 4 inch Smile LED Fog Light
DOT APPROVED: Our fog light is legal on road and provide maximum visibility and safety in foggy weather. It's the best fog light for Jeep.
EASY TO INSTALL: Plug N Play, the installation is pretty easy and straightforward, mostly no additional wiring required.
LATEST DESIGN: Upgraded smile design will enhance your lovely with a fashionable-style and eye-catching appearance. A fresh upgrade to the stock fog lights.
SHOP WITH CONFIDENCE: 12 months warranty.
Fit Jeep JL JT models, not fit Wrangler JL Sport; Rubicon steel front bumpers or Sport models.

2. 4 inch & 4.5 inch Clock Design LED Fog Light
Unique design, clock-stlye apperance
Reduction in energy consumption
Osram LED chip, brighter and longer life span
with rebreather hole at the back side, highly waterproof
The 4 inch fog light with DRL white angel eye is super bright because of the high power osram 5w led chips, fits Jeep 2007-2018, Jeep Wrangler JK JKU TJ LJ Freedom Edition etc.
Fits motorcycles/Harley Davidson with 4.5" round passing lights.

3. 4.5 Inch Driving Light Fog light special for Harley
Use original CREE led chip
With EMC function
With rebreather hole at the back side, can solve the problem of getting water and moisture inside
Easy plug and play
With angel eyes
With amber turning light and white DRL

4. 70W LED Foglight for Dodge
Uses famous OSRAM LED
70W super high power, super bright fog lamp
Standard SAE fog light beam pattern
Double reflector design
Fit 2002-2008 for Dodge Ram 1500, 2003-2009 for Dodge Ram 2500/3500, 2004-2006 for Dodge Durango New Body Style models only

5. Clock Design LED Fog
light For Toyota, LEXUS & SCION
LED Reflective fog lamp, brighter than other normal fog light
Fit for TOYOTA, FOR LEXUS
NEWEST in the market, only produced by LOYO
Fits For Toyota 2007-2014 Camry, 2009-2016 COROLLA, 2006-2012 RAV4, 2008-2011 HIGHLANDER, 2010-2012 PRIUS, 2007-2014 Yaris, 2008-2010 AVALON, 2009-2014 MATRIX, 2007-2008 SOLARA, 2009-2016 VENZA
Fits for LEXUS 2013-2015 ,GS350,  2013-2015 GS450H, 2010-2012 IS250H, 2008-2012 IS F, 2008-2013 LX570, 2008-2013 RX350, 2010-2015 RX450H, SCION 2006 XA.
LED technology is an improvement over the factory lighting on your Jeep Wrangler, your fog lights should not be overlooked.
LOYO also design and manufacture LED headlights, tail lights, turn signal lights for Jeep, Harley Davidson, ATV/UTV and other motor.
leave a comment or email us if you have any questions.