LED Light Bars for Trucks
If you are an explorer with a passion for off-roading, regularly taking trips through unlit areas at night, you would know that, no matter how good the headlights and fog lights are, they're no match for the darkness of the desert or the pitch-black mountains. Installing off-road lights on your pickup truck has always been essential to adventure.
Table of contents

Why people need light bars for trucks?
Where to Install LED Light Bar on Trucks?
Typical mounting location for your LED light bar.
What Light Bar Should You Buy?
Our LED Light Bar Picks for Trucks
Why people need light bars for trucks?
LED Light bars for trucks are the ideal way to light up the area around your car, making them an ideal addition for drivers in dimly lit areas. And signify your presence, warn other drivers of issues on the road. You'll never go unnoticed.  
A quality light bar can easily turn a day trip into a night trip, ensuring that you can see what's right in front of you. They can illuminate an area so much more effectively than any other form of auto lighting due to the spread and brightness of the bulbs.
It's true, purchase a bar could be fun, but the task can also be completely overwhelming - especially if you know nothing about bar or even the light bulbs. Luckily, we've put together this guide to help you, and some of all the questions you might be concerned about can be found here so you can better choose the right product for your specific needs and off-road light requirements.
Where to Install LED Light Bar on Trucks?
This is one of the first things you need to determine when purchasing a light bar. Different light bar sizes fit in different locations. Many of the mounting options around your truck fit a maximum strip light size of 48". Larger bars may only fit on top of your car.
Here are typical mounting location for your LED light bar
You can mount many types of light bars on the front bumper. With ready-made holes, the front bumper is the easiest and most flexible location for mounting light bars, with no need to drill holes and purchase additional mounting equipment. In case there are no holes, creating one or two is not that difficult
The A-pillar is an ideal mounting location for smaller work lights or ditch lights, which provide a substantial difference in light angle from your vehicle's factory headlights. As a result, you will get better road visibility. It can also be used as a turn signal.
Ditch lights are designed to illuminate the sides of the vehicle, not the front of the vehicle. Aim them properly and use a flood beam pattern to get a good spread of light.
If your car uses a grille with a built-in LED light bracket, this gives a clean look, and the light is still high enough to project where you need it. However, it is essential to note that the grille is not a very sturdy place to mount the lights.
Another option is mounting the light behind the grille rather than in it. The amount of vehicles with enough room for lights in front of the hood is limited. And the factory grille has to be of a more open design too. However, it may block too much light even with a more open design. But a, plenty of output quality LED will solve all the problems.
Reminder
Before you decide where to mount your lighting device, the first thing to note is to check with the local rules to know when and where you are allowed to use your light bar, to ensure that you won't get into trouble with the transport authorities.
What Light Bar Should I Buy?
As we know, most products on the market today offer a wide range of features. And of course LED light bars are no exception. This specific product has many features to consider, such different beam patterns, Colors and sizes, Number of Rows, lifespan, etc.I will go through them one by one.
Beam Patterns
Choosing a beam pattern is one of the biggest features considered when purchasing an LED light bar.
Common light bar beam patterns include flood, spot and a combination beam.
Flood beams spread the light over a wide area and is a ideal for off-road driving, illuminating large areas in front of the truck.
Spot beams illuminate narrow spaces at greater distances with little light on the sides. They focus primarily on a single spot, is a better for on-road driving.
Combination beam pattern combines both, offering a spot and flood beam pattern.
Size
Which also is probably one of the most important features to consider if you are thinking about adding an LED light bar to your vehicle.
It's not only about mounting location, but also the brightness you hope.
The larger the LED light bar, the more bulbs you'll have, meaning the more light that will illuminate from said bar, and the more you can expect to pay.
Color
We all know that the brightest white light is best for any type of driving, amber lights are best for driving in low visibility conditions (e.g. fog), and emergency vehicles often choose blue, red and green and are therefore more visible.Besides these, some color-changing bars are becoming popular.
Light color will be one of factors in how and where you plan on using your lights.
Construction
The construction of a LED light bar is extremely important because it dictates the longevity of the product. There are a few things to look for when looking for in the construction of an LED light bar.
Like, Sealing is an important factor to keep a light working at it's top performance. Die-cast aluminum housing can withstand harsh environmental factors. Anti-scratch and high transmittance lens allow nearly as much light to pass through. The LED chips located in a LED light bar will dictate the manufacturers quality level. OSRAM and CREE will be your top choice.
Our LED Light Bar Picks for Trucks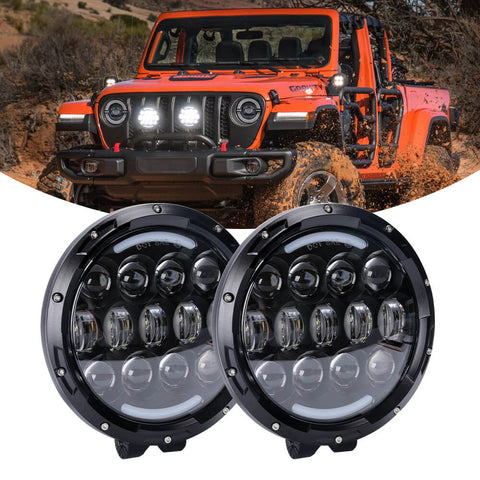 Why we picked it
This powerful LED light bar integrates DRL, High Low Beam, can be adapted to different needs, is ideal for off-road adventurers.
The angle-adjustable Pod features (21) 5W high intensity original OSRAM led chips, has a high lumen output with a 6000K color temperature. Using an operating voltage of 10v-30v DC, this LED Light has an average life span of up to 50,000-hours, making it perfectly suited for use on different off-road vehicles.
Built tough for use in the roughest conditions, this LED Light features a die-cast aluminum housing with a PMMA acrylic glass lens. With a waterproof rating of IP 67, this Light Bar can take what ever mother nature throws at it. The housing is completed in a textured black powder coat finish for aggressive good looks and long lasting corrosion resistance.
Designed to be a straight forward installation with adjustable mounting bracket, this LED Light can be mounted where you need it, roof, windshield or bumper.
Key Features
6000LM for high beam, 4000LM for low beam
Color Temperature - 6000K
Die-cast Aluminum Housing
5woriginal OSRAM led chips per piece
Plug and play installation
Universal Mounting Applications
What People Say?
"The shell the lights are in is made of coated metal, the lens is glass. This company did not cut costs by using plastic or a low quality coating. These lights are made to last and I can never see myself replacing them."
LOYO Phantom Series LED Light Bars
Why we picked it?
This eye-catching chasing rgb halo led light bar will definitely revolutionize the look of your car or truck with powerful LED lighting and innovative lighting effects.
Installed with High Quality chips, it can light up 6000K white as Off-road Driving led light bar with high brightness and long lifespan.
The halo ring was installed inside the led light bar, can be steady, constant, color-chasing , Flash, also can speed up and slow down. There are more than 72 modes + 6 millions Solid colors to choose from, they can be red white chasing, green white chasing, blue white chasing, yellow white chasing, light blue white chasing, pink white chasing, red fading, green fading, blue fading, yellow fading, light blue fading, pink fading and white fading etc. the Phantom Series Light Bar will leave your spectators jaws on the floor.
Combining 30° super spot light in the middle and 60° flood light at two sides. Get you both a high-intensity spot light for further distance and also a bright flood light at broad distance. Clear all darkness forward and at side roads. A perfect lighting option for off-roading trails.
These light bars can be purchased in a wide variety of lengths and watt, including the following:
13.5" 72W
22" 120W
32" 180W
42" 240W
50" 288W
Because of these wide range of sizes, it is relatively easy to mount the bar anywhere you have space on your vehicle. Also, with pod work lights pod work lights, the chasing RGB halo led light bar combo will leave your spectators jaws on the floor. 
All units do come with mounting and installation hardware included.
Key Features
Housing Material: Black die-cast aluminum
Mounting Bracket: Stainless Mounting Hardware
Lifespan: Obove 50,000 hours
Color Temp: 6000K(white)
Angel Eyes Halo Ring : RGB Color Changing, 12 solid Color Changing,over 72 chasing flash modes.
What People Say
"The halo is great and will actually throw a little bit of useful light a good ways. I will say to make sure you adjust the angle slightly down because driving through thick fog one time I turned them on and the light shot back into my face. A quick adjustment to slightly facing down and it lit up the road better and less light being shot back at me through the fog."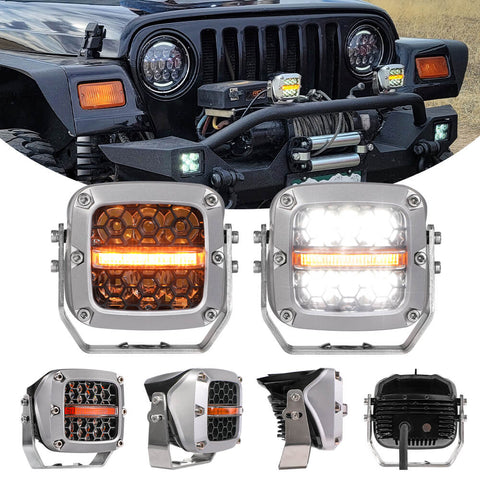 Spot White and Amber Light Bar
Why we picked it
This 60W Comb LED driving lights, as one of LOYO original designed and manufactured, patented LED Lamp, was designed to improve the brightness for all customers during the night off road driving. It is just straight-up good-looking,with an unique honeycomb appearance and super bright beam, integrates cool white color and amber white color, excellent for revealing the overlooked corners when traversing trails after dusk.
The 3.5 inch size Honeycomb Work lights are made specifically for A-pillar applications. Of course, you can also mount them on the roof or bumper of your truck to illuminate your nighttime adventures. With high With high performance Cree LED chips, 60W/8,000LM output that give you more light and keep you safe at night.
Key features
Lamp Cup Material: PMMA+ Aluminum
LED Color: Cool White Color + Amber Color
Luminous Flux: 8,000 LM
Working Life: Above 50000 hours
Weatherproof Rating: IP68
What people say
"Well made, has some weight too it. great value for the money."
Conclusion
Whether you're looking for the best light source or the perfect complement to complete a rugged off-road look, it's important to invest in a quality product that's built to last. By following this guide, you can now make an informed decision about purchasing led light bars for your truck. It's  all about your time and money, you deserve a quality LED light bar that will last.
Quick Link-Add more lights to your truck
LOYO®was established in 2009-the primary focus of becoming a market leader in the automotive parts & accessories industry with the goal of providing high-quality products at competitive prices, great customer service, superior technical support to our customers.