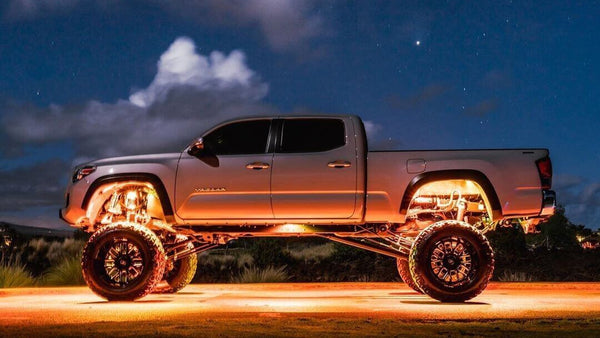 Rock lights are an excellent addition to your car if you are an avid off-roader or overlander, which can be simply mounted beneath the vehicle. These little additions can be a game-changer that just sits underneath and are specifically designed to highlight the rocks and debris that can harm your vehicle. allow you to easily observe the roads around your vehicle. Additionally, it can help your vehicle appear cooler too. In this regard, the best rock lights are an important accessory to your vehicle when you frequently drive off-road.
Rock Lights became a very popular and important accessory to people's vehicle as many people began their build journey.
However, picking a rock lighting kit isn't an easy task. If you are a beginner, the article on How To Choose Rock Lights may be able to help you.
LOYO RGBW Rock Lights are so excellent in both its design and function. It's considered to be one of the brightest, toughest and best value rock light kit on the market. Only speaking to the 16 million RGBW DIY lighting effect with single dedicated pure white chip, advanced Bluetooth APP control, up to 9W per chips and 7 chips per lights, it is far better than other rock lights. Many huge fans of LOYO have purchased our RGBW Rock lights and gave high ratings. Did you think that was all? No. LOYO have greater surprises for us.
LOYO Latest upgrade RGBW Rock Lights which have innovation and improvement on the existing functions, give full play to the professional technology advantage, break through the limitation and get higher performance. What you can expect from it? I'll give you an explanation.
Why we upgraded the RGBW Rock Lights?
LOYO have done all the research on what buyer's like best about their rock lights, and problems with those lights. The result shows that there are still room for improvement. Including unstable Bluetooth control, outdated features, with low power and lumens, not good-looking.
People love LOYO Patented RGBW Rock Lights kit because it has a more fashionable appearance and better performance than other RGB and RGBW rock lights on the market.
However, new Rock Lights are an even bigger upgrade on basis of that. 
With Pure Color
Adopt advanced LED technology, the new Rock Light with more uniform lighting and pure color, has separate real pure white light. No more mottled color, you can choose any colors as you like. Super bright RGB + W colors take your off-road game to the next level.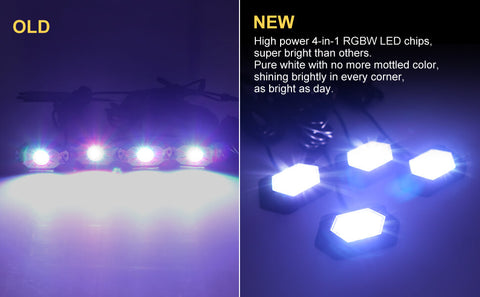 Multi-colors & Music Mode
16 million colors and 121 preset lighting mode for your LED rock light kits, you can select any color from phone APP. Also the rock lights will follow the rhythm of your music to glow in music mode, including slow, dance and relaxing tunes music.
Higher Brightness
With numerous experiments, New Rock Lights adopt unique light-emitting surface with diffuse reflection, to increase the beam angle and have a larger irradiation range. Not like the spotlight, this design can also make lights softer and more uniform, which you can even stare at.
More Stable Bluetooth Control
The lights are controlled by Phone APP, use advanced chip from Broadcom is solving the headache of unstable Bluetooth connection, and let you connect the Bluetooth more quicker and stable.
And a new breakthrough is that all LOYO Patented RGB product can be controlled by one APP.  They not only support the new generation Rock lights, bust also support the old version, even the whip lights, Spare Tire Wheel Brake Light, RGB Diamond Headlights for JL,7" RGB Headlights and 4" Fog Lights for Jeep JK, etc. All-in-one APP!
Longer Extendable Wire
Up to 11.48ft of wiring, which is plenty of length to put it where you want. No more complaints about the line not being long enough. You can also extend the wiring as long as you have extension cord.
IP68 Waterproof Rate
Both the New and Old Rock Lights are IP68 Waterproof. We test these underglow neon lights under the water for 3 hours consecutively and they all work well. These rock lights are made with a rock-solid aluminum body with tough PC lens, can well resistant to shock and vibration. Sealed and protected from outside elements. With a long lifespan over 50,000 hours.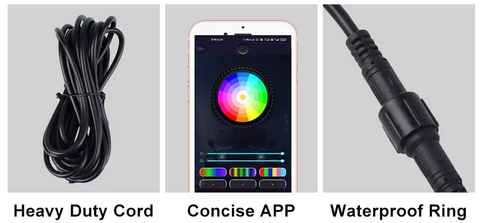 After knowing this features, maybe you have answer on which rock lights kit you should buy for your truck.
If you're gonna get some, the new Rock Lights are a little  more than the old, but the light output that you get compared is insane. These are incredible.
Both rock lights have 4 Pods, 8 Pods, and 12 Pods for available. All the kit comes with everything you need, comes with a bluetooth module,waterproof connections, the little rubber pads and all the bolts and stuff that you need to put everything in the wheel well.