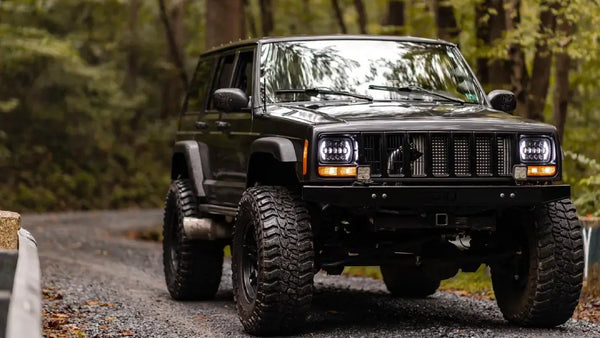 Inexpensive way of drastically increasing the light output of your XJ!
When you looking online at all the different 5×7 or 7×6 sealed beam headlight upgrades for your stock H-6054 sealed beam headlights. There's actually a bunch of different options, what is hard to make decision which to choose.
In this blog, we wanted to introduce one of the most popular options on our website, and why people love it. So you can get a pretty good idea whether it's a good choice for your vehicle.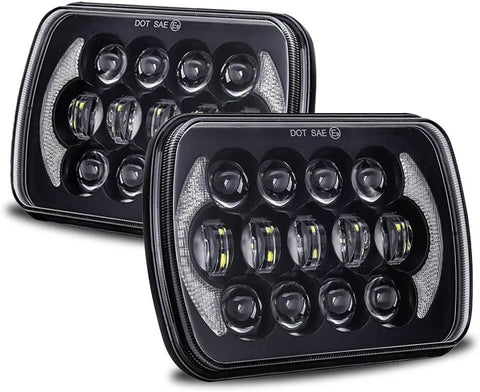 LOYO 5" x 7"  85W LED Headlights are built to replace the stock factory sealed beam lights for pickup trucks or cars that has 7x6 inch Headlights, provides you with high beam, low beam and daytime running lighting technology without any modifications required.
Super Bright
Featuring Cree chips light source, these headlights last longer than traditional incandescent and halogen bulbs, use less power, and are much brighter that makes it easier to see at night. It retains its original brilliance even after years of use.
Each headlamp has 6000K light output which are white, 6500LM on high beam and 4500LM at low beam, provides wider illumination so the driver can drive properly under a variety of conditions like dark, foggy, rainy, bad weather, and other unexpected bad conditions.

Better Heat Dissipation
The quick cooling aluminum housing with patented breath vent design on the back makes it more effective heat dissipation system, which can effectively extend the lifespan of these Rectangular 7×6 LED Headlight to over 50,000 hours.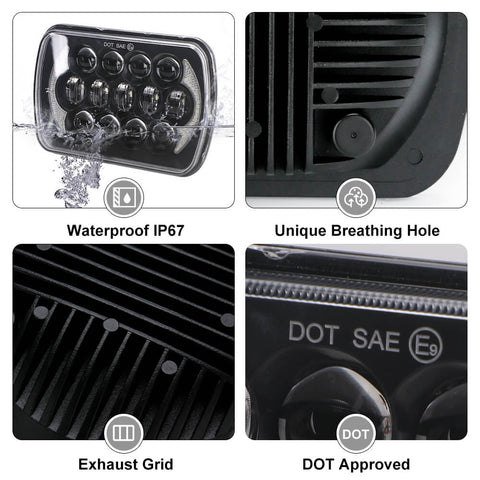 Straight forward Installation, Legal and Safe On The Road
Certified by CE & RoHs and DOT/SAE approved, these 5×7 LED Headlights are plug-and-play design, anti-flickers are integrated on circuit boards to prevent flickering. Usually installation takes less than 15 minutes.
Compatibility With Wide Range Headlights
LOYO 85W5×7 7×6 Inch Led Headlights is designed to upgrade for your Jeep Cherokee XJ and can be widely used on other vehicles with 5x7/6x7 inch headlight.
1986-1995 Jeep Wrangler YJ
1984-2001 Jeep Cherokee XJ
1986 to 1992 MJ Comanche
Toyota Pickup,Toyota MR2, Toyota Celica,Toyota Supra,Nissan 240SX, For Truck Jeep Cherokee XJ motorcycle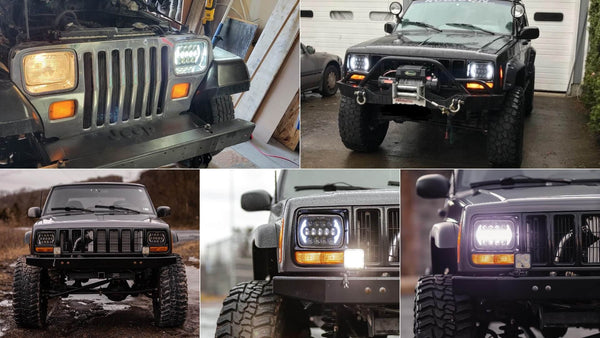 What people said about LOYO 5×7 85W headlights?
Let's start off by saying: If you are looking for an inexpensive headlight upgrade for you XJ, then there's nothing wrong with these headlights. They install in a matter of minutes, plugs directly into your stock wiring harness, day time running lights are easy to hook up if you have even the slightest but of knowledge for wiring, and offer great lighting for the price. Simply said a great upgrade.
And they just look damn good, don't they?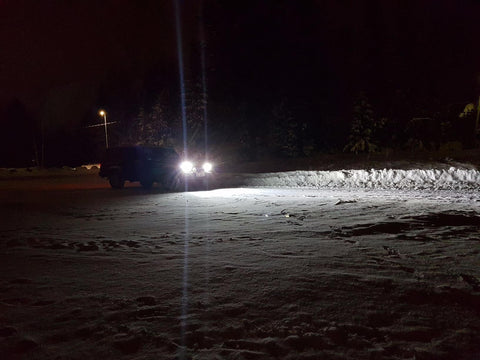 The light output down the road is fairly good, way better than stock. If you need light output longer than these put out you will need auxiliary lighting anyways. The DRL, low beam, and high beam work as expected but with the car running and the lights totally off the low beams still glow dimly probably from the LED's not drawing much current, again, not a big deal, but the light is never totally off until the car is turned off.
What impressed me the most about this upgrade, at least from a safety standpoint, is the flood lighting. The light output towards the side of the road is in my opinion just as important as the output going forward and that's one key feature that i absolutely love about them. These lights are such a huge improvement over the standard halogen bulbs. They have improved my safety while driving.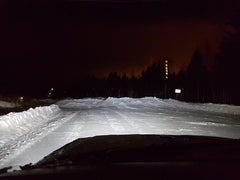 The photos show low beam, high beam(i have 2 old halogen auxiliary lights as well, unable to turn them off) as well as from side and rear.
Now the last point I'm concerned about is: reliability.
I have only had them on the car for 1-2 weeks, so far I have had no issues. But I'm simply not comfortable with rating it 5 stars before I'm sure they will hold up over time. Time will prove everything.
Overall these are a good affordable option to replace the stock sealed beam headlights, and another alternative to buying H4 conversion lights with an aftermarket harness.