Why Should upgrade your Jeep Headlights to LED?
Light up the road and night with these LED headlights in your Jeep Wrangler

What will come to mind when you think of a four wheel drive sports utility vehicle?
The answer would be Jeep Wrangler. It turns out the Jeep Wrangler is a mainstay of American off-roading.
Jeep, especially the Wrangler, have grown in popularity over the years. While many of its offerings are beloved by fans, most of them aren't too fond of the stock lights. That's because Jeeps are extremely thrilling vehicles to drive around on all kinds of roads, but the stock lights are not bright enough for off-road use, also dangerous to drive at night, particularly when there are no lights around.
What's more, stock headlights are prone to breakage and there's nothing worse than being stuck with a broken headlight on your off-road adventure.
Led headlights technology is the perfect alternative for the Jeep's original halogen headlamp. If you do plan to drive your Jeep Wrangler off-road, you may want better headlights to see obstacles and the road in front of you more clearly.
For this reason, Over the past few years, we've designed and built a number of professional Jeep Wrangler headlights that are durable and innovative, guaranteed to make your Wrangler stand out.
Best Jeep Headlights in 2023
Here are top 5 of bright Jeep led headlights from LOYO.
Table of contents
All that you need to know when you choose headlights for your Jeep Wrangler
Frequently Asked Questions.
Final Words On Best Jeep Wrangler LED Headlights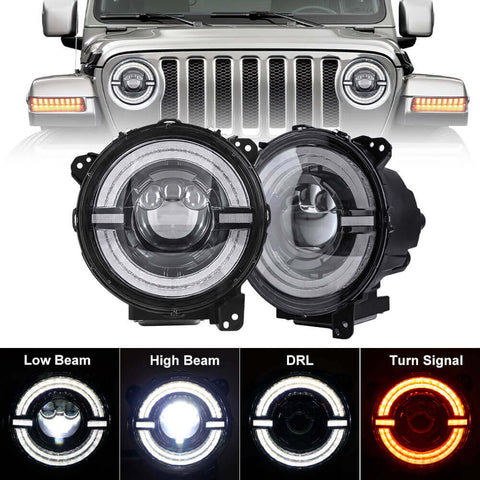 Why we love it:
The newest stylish look, sure to make your Jeep stand out from the crowd!
DOT labs measured 6000LM, superb lighting performance to illuminate the path.
Integrated Daytime Running Light, Amber Turn Signal, High Beam and Low Beam.
Offer quality IP68 waterproofing for over 50,000 hours lifespan
Easy plug and play installation with H4 and H13 adapers included
Compatible with 2018+ Jeep Wrangler & Gladiator
New Upgraded LED Headlamp. These headlights, just like the name "Sunlight" , are built to illuminate the path,and for maximum visibility on the darkest backroads.
If you want something different to make your Jeep stand out from the crowd? These headlights would be the best choice.
Superb Performance. In addition to the super bright light, the high beam of each headlight is a whopping 6000 lumens and the low beam is 3000 lumens. They are much brighter than factory headlights with high beams of 4800 lumens and low beams of 2500 lumens.
When you look for Jeep headlights with LEDs, the Pillips chips are the brightest ones with a very sharp light cut off even in the dim setting. These LED Jeep headlights are made of original Phillips LED chips due to which they are more than 50% more bright when compared with other similar options. These Sunlight round LED headlights are the brightest of all options that we've made and you can find in the market.
Four Lighting Mode. Sunlight LED Jeep headlights include many of the features that Jeep owners want, including high and low beams along with a halo ring that functions as a Daytime Running Lights (DRL) and amber turn signal lights. Switch between high and low beam without any shading screen inside. Morewhile, the angle of high and low beam can be adjusted.
Heavy Duty Housing, Anti-fog and Anti-Condensation. The Sunlight Headlights comes in a die-cast heavy-duty aluminum housing with a powder finish and a blacked-out housing which keeps the LEDs well-protected and greatly increases durability and life-span for your headlights. These are waterproof, dustproof, and anti-explosion to increase visibility and safety.
The Sunlight beam lights also come with a unique breathing valve system that can be removed to allow the inside air to escape. This helps prevent fogging of the headlights during the winter, rainy or snow day, you will never need to worry about the light beams getting dimmer or not being bright enough.
Plug And Play Installation. These headlights come with built-in EMC which prevents electromagnetic interference and keeps your lights bright and steady. So they are very easy to install simply by plugging them in!
Legal on the road.  They are DOT compliant, which means that they meet the rigorous set of standards put forth by The United States Department of Transportation for safety, makes sure that you are ready to tackle all USA roads with these headlights.
If you're in the market for the brightest LED headlights for your Jeep JL, look no further.

Why we love it:
The Newest Design for Jeep JK
60w (high beam),30w(low beam) for each headlights
Integrated Daytime Running Light, Amber Turn Signal, High Beam and Low Beam.
Eye-catching gradient effect of daytime running lights
Offer quality IP68 waterproofing for over 50,000 hours lifespan
DOT Compliant
IP67 waterproof
As one of  the newest models, the Dragon Eye LED Headlights do have a lot of cool features, that help to give it a great value even with the higher price.
One of the neat things about these Jeep LED Halo headlight is the gradient effect of DRL. Default color is blue light. You also custom your own color lights as long as you meet the MOQ.
These are also DOT compliant with the option of using the more typical 5700K natural daylight color light. The brightness of these headlights is the same as the Sunlight with a high beam of 6000 lumens and low beam of 3000 lumens. Thicken die-cast aluminum housing can protect your headlights with heat dissipation and IP67 waterproof rating.
The distinct look making it one of our best Jeep Wrangler LED headlights. They work perfect for any model of the Jeep Wrangler that has the round headlights, which makes these great Jeep JK halo headlights or Jeep TJ halo headlights. It also can be compatible with Jeep JL only if you get a 9 inch mounting bracket.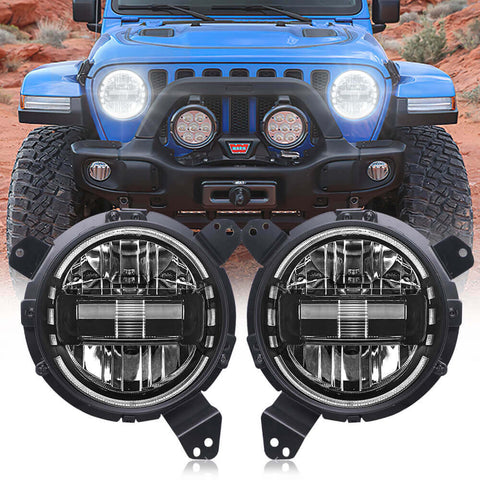 Why we love it:
60W(High Beam), 30W( Low Beam)
Die-cast aluminum housing with IP67 waterproof rate
Over 50,000 hours lifespan
Anti-flog technology
Anti-flicker mechanisam
DOT Approved
The King Kong headlights which have been popular in the past two years, are still remaining popular in 2023. The fresh aggressive look greatly adds unique style and practical function to your Jeep Wrangler.
They also provide a high-performance safety solution with improved light output glare reduction. With built-in EMC, effectively avoid electromagnetic interference and flicker issues.
Tough, die-cast aluminum housing with added scratch prevention technology on the mirror, anti-fog and hard-coated PC lenses to prevent cracking and formulated to resist UV or chemical damage. These features make it easy for you to drive your wrangler under a variety of weather conditions and also make these headlights long-lasting and durable, one of the top choices in halo lights for Jeep JK or TJ, even JL.
Also with the superior condensation management and DOT approved warranties that your lights are legal on the road, meeting section 108 requirements of the federal model safety standards. Your DOT compliant is clearly etched on the lens of the light.
Come with the two features of the high beam at 60 watts and the low beam at 30 watts, These headlights combined with the new design provides better vision even in low light, rainy weather, and even storms. The beam pattern is wide enough. If you are looking for plug N play LED headlights for Jeep Wrangler, these might be a great choice for you.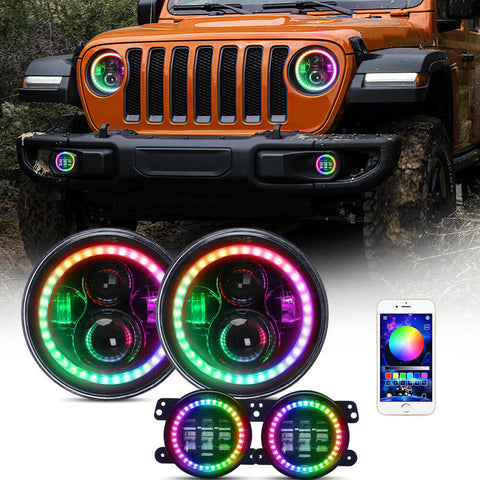 Why we love it:
Four lighting mode. Daytime Running Light, high/low beam, RGB
Voltage: 9-16V DC
LED: Philips LED chip
Lamp Type: 9pcs 5W CREE LED
Lumen: 3000LM(Low Beam), 6000LM(High Beam)
Lens material: PMMA+ABS
Working Life: Above 50000 hours  
Warranty: 12 Months
Certificates: CE, DOT, IP67
These 7 inch Jeep Wrangler LED RGB halo headlights and fog lights are an incredible set of LED lights for Jeep Wrangler owners to use for upgrading and customizing their Wrangler.  
These allows you to get the headlights and fog lights together for better convenience and guaranteeing they all match properly.
One of the coolest features is they can change color, with 16 million RGB color wheel adjustment and APP control (support IOS and Android). You can DIY your own vibe by customizing the speed, brightness, music sync and colorful RGB colors.
The headlights produce a powerful high beam of 6000 lumens and a low beam of 3000 lumens. The fog lights produce 1440 lumens each. Whether you need Jeep LED headlights for the TJ or JK headlights, these are a perfect option. The price is affordable, and worth your every penny.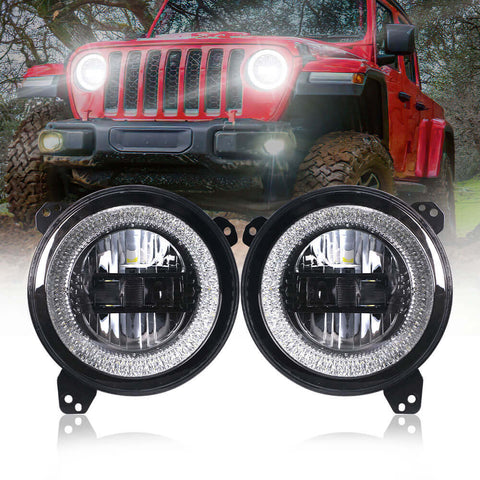 Why we love it:
Brighter than OEM with 6000LM/60W(High Bean)- 3000LM/30W(Low Beam)
DOT and E-mark Certifications
Integrated white DRL Accent Halo Light
Easy plug and play installation
1 year warranty, 30 days free returning.
Fits 2018-2023 Jeep Wrangler JL Models
LOYO 9 inch Diamond led headlights are made with Philips led chips, output 6000 lumens for the High Beams and 3000 lumens for the Low Beams, with a 5700K color temperature, 50% brighter than other similar 9" headlight, making it perfectly suited for use on off-road vehicles.
Upgrade the appearance and nightime visibility of your Jeep JL with a set of LOYO Diamond Headlights is an excellent way. These LED Headlights feature a great looking integrated Day Time Running Light (DRL) halo accent that allows you to be seen day or night by distracted drivers, and glitter like a diamond in the sun.
These Diamond Headlights are also designed to perform in the harshest of elements, feature aluminum housings with clear polycarbonate lens. Each Headlight is weather sealed with unique breathing hole to prevent moisture from harming the state of the art electronics found inside. Have a waterproof rating of IP 67, meaning they can take just about anything the trail can throw at them.
Easy Installation. With Built-in anti-flicker harness, and the adjustable screws on the back of the lamp allow you to adjust the tightness of the bracket.
Frequently asked questions to know when you choose headlights for you Jeep Wrangler
Are LED headlights worth it on a jeep?
Whitout hesitation to tell: LED headlamp would be one of the best factory upgrades for the Jeep. They can provide a high-performance safety solution with improved light out put glare reduction. You can see not only wha't diretly in front of the bumper, but they also light up the side walk and dithches fairly well. Let you seen and be seen.
When placed both led headlights and hologen lights side by side, it's easy to see why led headlights are such an essential upgrade.
Moreover, LED lights have so many advantages: they use less power but operates about 90% more efficiently than incandescent bulbs, last longer and have a much whiter color than halogens...what's more, they look so cool!
Are LED headlamp legal in USA?
Most of LED headlights need to be DOT certified. This means that they meet the rigorous set of standards put forth by The United States Department of Transportation for safety. 
What is the lifespan of LED Lights?
Usually LED Lights have a longer lifespan than halogen headlamps, over 50,000 hours, because they produce less heat. They also typically don't burn out like incandescent bulbs.
Can I install LED headlights in my Jeep on my own?
Many LED Jeep headlights are easy to install, plug and play, you just need to plug it in
However, if you are not a professional, it is recommended that you make sure to read the tutorial to avoid any hassle before starting any installation.
Conclusions On Best Jeep Wrangler LED Headlights
There are a lot of thins you need to consider when choosing LED headlights for you Jeep Wrangler: is it easy to install? durable and efficient or not? what's the brightness? And your preferences like colors, styles and extra features.
But, it is relatively straightforward to make decision. We are confident that whether you're shopping for the best Jeep JK or JL headlights, we have a recommendation perfect for you and your Jeep Wrangler.
For the best LED headlights for your JK, choose the Newest Dragon Eye Headlights with Halo White DRL & Amber Turn Signal. And choose the 9 inch Sunlight headlights for your JL. They are both bright, power-efficient, and waterproof for any weather or condition use, equipped with the latest technology and look.
No matter what choice you make, you're sure to soon be enjoying brighter, more efficient lighting in your Wrangler with these great LED headlights!